There are several ways to obtain assistance for your Pontem Cemetery Data Manager software or for other Pontem Cemetery Management Software Suite products you may have purchased:
Online Training and Support Center
Create a Support Case (Ticket) from your Pontem Application
Create a Support Case (Ticket) from the Pontem Website
Create a Support Ticket by Phone (Voice Mail)
These assistance options are available to all Pontem clients who have an active support and maintenance subscription.
ONLINE TRAINING AND SUPPORT CENTER
If you are reading this article, you have already been introduced to our Help Center. This online resource is a comprehensive, searchable, self-help database of information and useful tools dedicated to training and troubleshooting topics related to your Pontem software.
We recommend you bookmark the location of the Pontem Help Center in your browser and check it first to see if the question or problem you're experiencing can be resolved through browsing the help documents included and learning more about your software.
CREATE A SUPPORT CASE (TICKET)
Creating a Support Case enables you to notify us that you need assistance, have a question, or need to schedule training or other support services without even picking up the phone.
Once submitted, your support request instantly appears in our Support Team's assistance queue and you become the very next person in line to receive a phone call from one of our Support Specialists. If you prefer to receive an emailed response to your question instead of a return phone call, simply note your preference in your initial request and we will be happy to oblige.
From Your Application



The most convenient and expeditious way to create a request for assistance it right in your application. You will find a Create a Support Request function in one of two places:
The Overview Workspace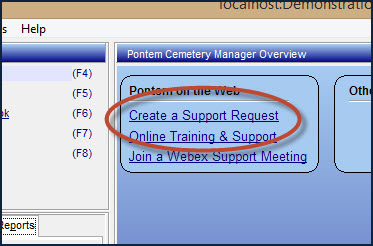 The Help Menu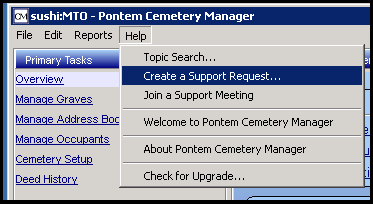 Click on "Create a Support Request" and a support request form will appear. When submitted successfully, you will receive a confirmation email and our our Support Team is notified immediately and will respond by email or phone.
From the Pontem Website



You can also create a support case from the top-right corner of the Pontem Website. Click on the link titled " Submit a request" to display the online Support Request Form.
CREATE A SUPPORT CASE BY PHONE
Our live Help Desk can also be reached toll-free at 888.237.8531. Please be aware if you call it's likely you will need to leave a message as our Support Team is most often busy assisting other customers. Be assured though, we will return your call as quickly as possible as helping you get the most out of your Pontem software investment is our Support department's primary mission and concern.