Notes: How To and Best Practices Overview
Benefits of Using Pontem's Notes Feature include:
Users can define what type of note is being added to the record by using "Note Categories."
Notes can be stamped with a date of the user's choosing.  The "Date"  field can be used simply to log the date the note was added,  or it can be used to organize operational notes for specific days, and if coordinated with a Note Category, for certain staff members.
The "Alert" option can be used to bring attention to high priority or very important notes.
The "Security" option allows users to add sensitive notes which only certain staff members have the rights to view.
All of these fields are searchable, enabling users to be more efficient and effective in monitoring and organizing cemetery tasks and operations.
Adding a Note
To add a new note to a record in any of the three main Primary Tasks, follow these steps:
Select the record to which you want to add notes from the applicable 'Primary Task'.
Select the 'Notes' link from the 'View Tab'.
Click Edit.
Click on the 'Notes' workspace to open a new note line.
Begin typing your note.
Set the Date, Note Category, Alert, and Security fields.
Save the record.
If you find the line view of the note is not large enough, you can also open the complete Note Dialog Window by clicking on the button with three dots: 

 When you expand the entire Note Dialog Window, it looks like this: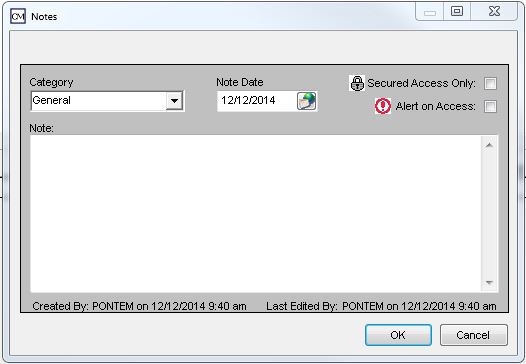 The Note Dialog Window can be used while entering your note. It can also be used (when not in Edit mode) to view a note.
If you find it necessary to delete a note line from the record:
Edit the record.
Right-click on the note line.
Select the "Remove Row" option.
Confirm your action.
Save the record.
Searching for Records with Notes

You can search notes based on category, date, keywords and phrases, plus additional criteria using the tab on the 'Advanced Search' filter titled "Notes."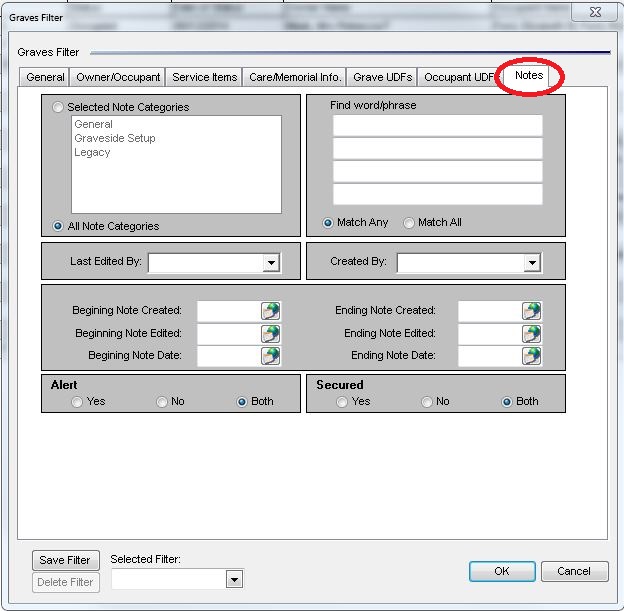 Pre-populated note categories included in the program are "General," "Graveside Setup," and "Legacy."
The drop-down menu of Note Categories available for use can also be customized by users. Commonly-used note categories include "Work Order", "Transfer," "Disinterred," and "Obstruction."
Useful Note Search Examples:
Searching for daily Work Order notes by choosing the 'Work Order' category and then filtering by desired note date.
Locating previous owner notes by searching the 'Previous Owner' category or performing a keyword/phrase search for a specific previous owner's name.
Searching for notes added by specific users (Management Review).
Searching for notes for obstruction issues.
Searching for all notes with alerts.
 Comments: How-To and Best Practices Overview
Not to be confused with "Notes," "Comments" offer users an opportunity to add plain text related to the following Workspaces and Views:
Workspace-View

Field Name

Purpose or Best Practice Use

Manage Graves - Care Plan/Memorial Information

Care Plan Comments

This is a great place to record the terms of the sale of a grave, and to make notes related to the purchase.

Manage Graves – Deed Information

Shared Deed Comments

Information entered into the 'Shared Deed Comments' field is shared and can be viewed from any grave associated with the same deed number. 

Manage Address Book - Genealogy

Genealogy Comments

Use for gathering family history and genealogy information. When this information is added to a person's 'Address Book' record, it is for internal information only.  However, should the person pass away and then be assigned as an occupant of a grave, the contents of this field will be copied to the 'Genealogy Comments' field on the resulting occupant record.

Manage Occupants – Genealogy

Genealogy Comments

Use for gathering family history and genealogy information. Information added to this field is part of the standard data published to the web for customers subscribed to Pontem's Online Burial Search service. 

 

Note: No other 'Comments' or 'Notes' fields have options for web publishing.