Pontem's Cemetery Data Manager software is capable of producing a variety of reports and forms. While many are included with the purchase of the software, often clients wish to have reports or forms customized to their specific needs, and to help automate day-to-day tasks.
The most typical custom form is a deed.  If you don't issue a formal "deed" to purchasers of grave or interment spaces, it's likely you provide another type of document to owners to affirm purchase. Examples of various forms of "deeds" include:
Lot Certificates
Burial Rights Certificates
Rights of Interment
Conveyance Forms
Ownership Certificates
Purchase Receipts
Generally speaking, all of these documents include the same basic information -- usually the name of the purchaser(s); the price paid for the grave or interment space; a unique identifier of the grave or interment location; the date of the purchase; formal or informal language defining agreement terms between the cemetery and the purchaser(s); and a representative's signature on behalf of the cemetery.
Purchase of Pontem's Cemetery Data Manager software includes the complimentary customization of one "deed" using one of Pontem's standard deed templates. To take advantage of this valuable benefit, a sample of your existing deed must be sent to Pontem for review, and you must indicate to us which of the following 5 templates you would like us to use as a guide for fashioning your deed.
1.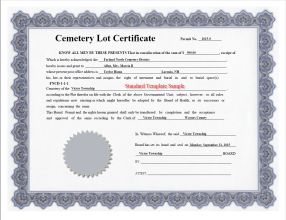 2.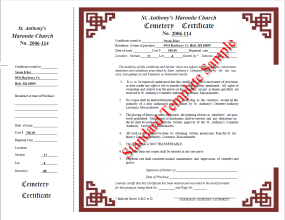 3.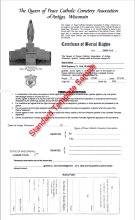 5.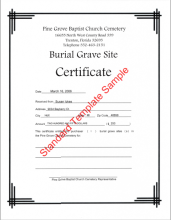 If you have the need for a fully-customized deed, or any other custom report, Pontem can also create both types at our regular service rate. If you send us a sample, we will be happy to provide a quote.
To begin the process of creating a fully-customized deed form or other custom report, please contact the Pontem Help Desk at 888.237.8531 or submit a Support Request here.